Laguna Hills Lodge Contactos
Esperamos poder servirle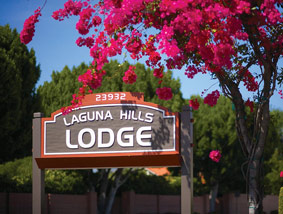 LAGUNA HILLS LODGE
23932 Paseo de Valencia
Laguna Hills, CA 92653
Teléfono (949)830-2550
Fax (949)581-0819
Email:
info@lagunahillslodge.com
Reservaciones por teléfono sin cobro adicional
Dentro de el Estado de California: 1(800) 468-4470
Fuera de el Estado de California: 1(800) 782-1188
Nuestro personal lo atenderá en su idioma: Español, Tagalo, Hindú, Cantonés, Bengali.
Direcciones desde Google Maps
Laguna Hills Events
Make the most of your visit to Laguna Hills - check our
calendar
for events and activities during your stay.

Featured Special Offer:
There is No Substitute for a Personal Touch
Our lowest price guarantee -- if you find a rate anywhere on the internet lower than our website rate, we will match that rate.
More info...