We Look Forward to Serving You
Contact The Laguna Hills Lodge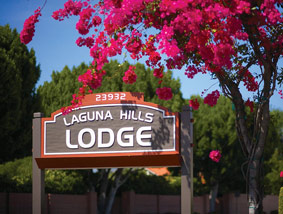 The Laguna Hills Lodge
23932 Paseo De Valencia
Laguna Hills, CA 92653
(949) 830-2550
FOR RESERVATIONS:
Call toll-free from California at (800) 468-4470 or from out of state call (800)782-1188
Check in: 3:00 p.m.
Check out: 11:00 a.m.
We have a no pet policy
Minimum check-in age is 21
English, Spanish and Tagalog spoken by our staff.

For Group reservations, please email us at info@lagunahillslodge.com or call and ask for the Reservations Manager.

We are happy to provide luggage / package storage for our guests, at no charge, during their stay at the hotel. Due to safety and space limitations, please abide by the following limitations: No medicines, no perishables, no packages over 40 pounds, and no more than five items per guest room. Please make sure your name is on the packages. To make arrangements please call our Front Desk. Thank you.
Get interactive driving directions from Google Maps
Testimonials
""Floral aroma therapy! With the first step out of my car, the beautiful aroma of flowers engulfed me. The grounds are fabulous! Many, many picture opportunities. Great pool and hot tub. Located right across the street from the mall. Room was wonderfully decorated and had great fixtures. Very good complimentary breakfast. Very, very relaxing stay.""
Orbitz guest
View All Testimonials
Laguna Hills Events
Make the most of your visit to Laguna Hills - check our
calendar
for events and activities during your stay.

Featured Special Offer:
There is No Substitute for a Personal Touch
Our lowest price guarantee -- if you find a rate anywhere on the internet lower than our website rate, we will match that rate.
More info...